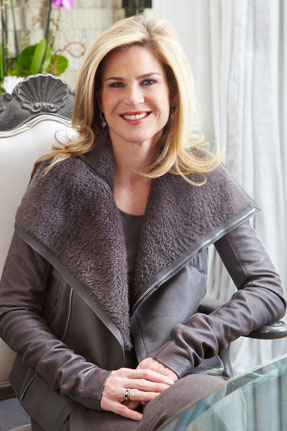 Teffy Jacobs, vice president and marketing director for Doris Jacobs Real Estate of Allie Beth Allman & Associates, is a native Dallasite and the second-generation in her family to be engaged as a realtor in the residential real estate business. Teffy specializes in Dallas' most prestigious neighborhoods, including listing some of the most prominent properties in the Park Cities, including Highland Park and University Park, Preston Hollow, Turtle Creek, Uptown, the Dallas Arts District, Bluffview, Greenway Parks, Lakewood, North Dallas, Plano and Frisco.
In addition to listing and selling properties, Teffy is responsible for the development of all marketing and advertising campaigns for both print and social media and online initiatives/technology implementation designed to develop continued contacts with past clients and with new business and referrals. She maintains close relationships with the people who help make Doris Jacobs Real Estate a success, including the graphic designers, advertising agency, public relations firm, photographers and office management as well as with new and existing clients. Teffy also plans and implements all aspects of Doris Jacobs Real Estate's special events.
A graduate of Highland Park High School and the University of Southern California (USC) with a Bachelor of Arts from the Annenberg School of Communications, Teffy's past professional experience includes working in sales and marketing positions for the Fortune 500 companies' FedEx Kinko's, Eastman Kodak Company and CrossLand Mortgage Corporation, where she was involved in strategic marketing, communication campaigns, branding, advertising, social media, corporate and convention services sales, business development, trade show and special event planning, mortgage banking, client relations, direct mail and internal relations. In 2003, Teffy decided to utilize her talents and join the family business at Doris Jacobs Real Estate, where she continues to work to this day.
By following her mother's example, Teffy innately assumes work, family life, and volunteerism as her personal responsibility. She has been involved with numerous charitable events and social organizations in the Dallas/Fort Worth area, including serving on the Board of Lee Park & Arlington Hall Conservancy, the Cattle Baron's Ball, Junior League of Dallas, KidneyTexas, Inc., Family Place, Dallas Symphony Orchestra League, Dallas Museum of Art, Pi Beta Phi Alumni Club, John Wayne Foundation, TACA, Community Partners, Heroes and Handbags, Texas Ballet Theater, American Red Cross, Equest, Leukemia & Lymphoma Society, Trinity River Mission, Dallas Habitat for Humanity, Salvation Army, Dallas Heritage Village and the Dallas Heart Ball.
Currently residing in the Park Cities, Teffy is a member of the Highland Park Presbyterian Church and a supporter of the Highland Park Independent School District.