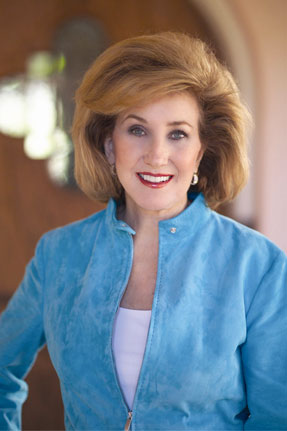 Doris Jacobs has been one of Dallas' leading REALTORS® for more than 30 years. As executive vice president and founding partner of Allie Beth Allman & Associates, Doris has consistently been the #1 Top Individual Producer at the company from 2003-2008 and from 2010-2016. Doris is often referred to as the "encyclopedia of real estate" by her clients and associates due to her vast knowledge of the sales and people who live in the areas in which she specializes.
Whether Doris is listing or selling a landmark estate or working with first-time buyers, she is known for her quality service, market knowledge and professionalism. She has built a career on repeat and referral business, often selling homes that have never been placed on the market as well as selling the same house several times over.
Her clients are loyal, and they recognize and appreciate her consistent superior performance, unmatched work ethic and unsurpassed product knowledge that continually place her among the top 10 agents in all of Dallas County, an honor awarded by the Greater Dallas Board of Realtors.
Doris specializes in Dallas' most prestigious neighborhoods, listing some of the most expensive homes in the Park Cities, including Highland Park and University Park, Preston Hollow, Turtle Creek, Uptown, the Dallas Arts District, Devonshire, Bluffview, Greenway Parks, M Streets, Lakewood, and North Dallas.
Doris is consistently among the top one percent of REALTORS® nationwide and is affiliated with the Greater Dallas Board of Realtors (GDAR), Masters of Residential Real Estate, Texas Association of Realtors (TAR), CRS, National Association of Realtors (NAR), Network Connection and Dallas Real Estate Leaders and Legends. She has been named one of the "Best Residential Real Estate Agents in Dallas" and Top "Power Broker" by her peers in D Magazine from 2003 through 2015, one of the "Best Real Estate Agents in Dallas" by Modern Luxury Dallas' Best Real Estate Awards from 2015-2016, "Who's Who in Dallas Residential Real Estate" by D Home, a Texas Real Estate "Super Agent" by Texas Monthly and one of the "Dynamic Women of Dallas" by Modern Luxury Dallas.
A longtime Park Cities resident, Doris is passionate about giving back to her community and is involved in many charities and social organizations including: the American Red Cross, Arts District Friends, AWARE, Dallas Arboretum, Dallas Museum of Art, the Dallas Symphony Orchestra League, Dallas Opera, Genesis Women's Shelter, KidneyTexas, National Asthma Association, Nexus Recovery Center, Park Cities Historic and Preservation Society, Preservation Dallas and the Salvation Army. She is a Patron of the Dallas Symphony's Scroll Society, the Nasher Sculpture Center and the Cattle Baron's Ball. Doris attends Highland Park Presbyterian Church and continues to be a proud supporter of the Highland Park Independent School District.
Doris began her real estate career in 1980 with Erle Rawlins Realtors. In 2003, Allie Beth Allman & Associates formed and Doris became a founding partner and executive vice president. In 1992, Jacobs' husband Jack, owner and president of The Melody Shops for 32 years, joined her in real estate as managing partner of Doris Jacobs Real Estate, combining his financial background with her proven real estate savvy. Together, along with the support of their daughters Teffy Jacobs and Kim Jacobs Calloway, who have become real estate dynamos in their own right, this merger formed one of the most successful real estate groups in Dallas and the country.